Corporate Events
Book Mitch for your next event!
Mitch will come to your event "in person" to sign and date each print, as your guests receive their personalized Mitch Gibbs artwork. Mitch speaks informally of his 24 years as the "artist in residence" at various properties on St Thomas and St John. Frenchmans Reef Hotel, Currently a Marriott proprty has been home since 1989. His talk Includes a brief personal history, brushing shoulders with celebrities and presidents,and some brief anecdotes about "life in the islands"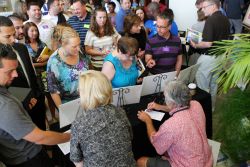 After your event, your guest will have gotten to know Mitch personally, taking home a treasured gift, that will be a lifelong reminder of your event, and your generosity.

Mitch has paintings and prints of many properties and popular beaches. So whether your bringing your group to Marriotts Frenchmans Reef or The Ritz Carlton, both on St Thomas, or Caneel Bay or the Westin on St John, Mitch can provide a lasting gift and experience, that your guests will enjoy long after they are home from your event.

From industry giants Motorola, Time Warner Cable, Terminex, Caterpillar Int, and Miracle Ear , to small personal weddings of as few as six people, Mitch has built a career sharing his exceptional artwork, humerous personality, and world class service, with visitors from all over the world. He is truly a "global" figure. I owe it all to the Virgin Islands and our beautiful properties and scenery! Where else could a farm kid from Pa offer windsurfing lessons to Magic Johnson, (he declined), visit Smokey Robinson in his room before a performance (he got an original!), sell a painting to Katie Couric (after dinner at Havana Blue Restaurant). Robin Meade got a Giclee and former President Bill Clinton picked up an original at the golf course. Mitch has plenty of stories to tell!
Motorola........Talk about "world class". At the beginning of their event, Mitch set up a huge blank canvas on the third floor of the hotel. Each day, at their leisure, guests from all over the world would paint their impressions on the centrally located canvas. Sometimes with Mitch's guidance, sometimes without, the attendees had a once in a lifetime experience, participating in a unique piece of artwork, with global implications. What a GREAT team building event! After the event, post cards of the finished painting were sent to each guest. "It was quite a project" says Mitch." I worked with people from all over the world"! Different languages, different religions. To have all these different influences come together to create one singular statement on canvas, was no easy feat!" We started without a blueprint!"

Mitch's combination of celebrity "appeal" and quality artwork, makes him a natural choice for your event. A very personal experience, that lasts a lifetime.
"A "no brainer" says Jack Hartley of Events International. Our guests loved it!"